The Power of Arena's Powerskin Racing Swimsuits
Author: Area13.com.au Date Posted:13 February 2023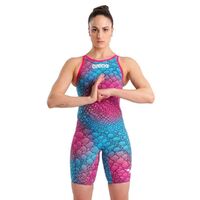 For over 40 years, Arena has established itself as a leading global swim brand, and their exceptional "Powerskin" series of performance race suits is a testament to their commitment to excellence. In this article, we will take a closer look at Arena's Powerskin racing swimsuits and the technology behind them.
The Pioneers of Carbon Fiber Technology
In 2012, Arena revolutionized the competitive swimming world with the introduction of their Carbon Fiber technology. This innovative technology weaves carbonium fibers with textile to create Arena's smart compression system, delivering swimwear that offers the longest glide, smoothest stroke and fastest time.
Top Australian Swimmers Trust Arena
Today, Arena is considered the #1 brand for Powerskin Racing Suits, Goggles & Training Tools, and it's not hard to see why. Top Australian swimmers such as World Champions Cate and Bronte Campbell, Mitch Larkin and Emily Seebohm are proud to be part of the Arena family.
The Importance of Friction Reduction in Racing Swimwear
When purchasing racing swimwear, it's important to consider the degree of friction that the material will produce when in contact with the skin. Swimming involves repetitive movements, and excessive friction can leave marks on the skin, detracting from the enjoyment and reducing performance levels.
Optimal Comfort with Arena's Powerskin Swimwear
Arena offers swimwear made with extra comfortable fabrics to provide an exceptional experience. Women can try the POWERSKIN ST CLASSIC suit, made from a light knitted fabric treated for an extra smooth outer surface. Men can enjoy the POWERSKIN CARBON GLIDE JAMMERS, constructed from an ultra-light Hydroglide shell that effectively reduces drag and turbulence.
The Ultimate Compression for Open Water Swimming
For men competing in open water, the POWERSKIN® R-EVO+ OPEN WATER collection offers maximum compression combined with fantastic comfort.
Soft Fabrics for Children's Comfort
For children, comfort is essential, and that's why Arena's racing swimwear for kids is always made from soft fabrics for comfort, muscle support and unrestricted movement.
Conclusion
In conclusion, Arena's Powerskin racing swimsuits are packed with the latest technology to provide the longest glide, smoothest stroke, and fastest time. With extra comfortable fabrics and the ultimate compression for open water swimming, Arena is the brand to trust for top-performing racing swimwear.
FAQs
How does Arena's Carbon Fiber technology work? Arena's Carbon Fiber technology weaves carbonium fibers with textile to create a smart compression system that delivers the longest glide, smoothest stroke and fastest time.

Who wears Arena's Powerskin racing swimsuits? Top Australian swimmers such as World Champions Cate and Bronte Campbell, Mitch Larkin and Emily Seebohm trust and wear Arena's Powerskin racing swimsuits.

What factors should I consider when purchasing racing swimwear? When purchasing racing swimwear, it's important to consider the degree of friction that the material will produce when in contact with the skin, as well as comfort and compression.

Does Arena offer swimwear for open water swimming? Yes, Arena offers the POWERSKIN® R-EVO+ OPEN WATER collection for men, offering maximum compression and comfort for open water swimming.

Does Arena make racing swimwear for kids